We all know that having a pool table in the house is a lot of fun and can provide hours of entertainment for family and friends, but getting rid of one can be a nightmare. 
It's big, it's bulky, and it's often impossible to move without professional help. Pool table removal isn't always easy, especially if you're trying to do it on your own. Before you even think about lifting that giant table, you'll need to make sure you have enough people to help you out.  
If you've been wondering how to get rid of a pool table, you've come to the right place. From figuring out the logistics of how to actually remove the pool table to knowing where to take it, we've got you covered.
Why does someone want to get rid of the pool Table?
Pool tables are a great addition to any home. Not only do they provide endless entertainment for your family and friends, but they can also add a touch of class and elegance to any room. 
At a CAGR of 5.4% from 2021 to 2028, the market for pool tables is expected to grow from its projected value of $214.1 million in 2020 to $291.6 million by 2028.
However, even though pool tables can be great, there are times when someone might want to get rid of them. Here are some of the reasons why you might want to throw out your pool table.
1. Space: One of the main reasons for getting rid of your pool table is the lack of space. A typical pool table is seven feet by four feet, which is not a small amount of space. If you have a smaller home, you might find that you have to sacrifice other furniture or decorations in order to fit the pool table in.
2. Cost: The price of a pool table may also be a factor in someone's decision to sell it. A billiard table can be purchased at a fair price, but maintaining one can be very expensive. The felt on the table will eventually need to be replaced, along with the balls and cues. Any of these items can cost a large sum of money over the course of a lifetime.
3. Maintenance: Pool tables also require regular maintenance. The table felt has to be replaced regularly and the balls and cues need to be taken care of. This can be a hassle and take up a lot of time.
How To Get Rid Of A Pool Table?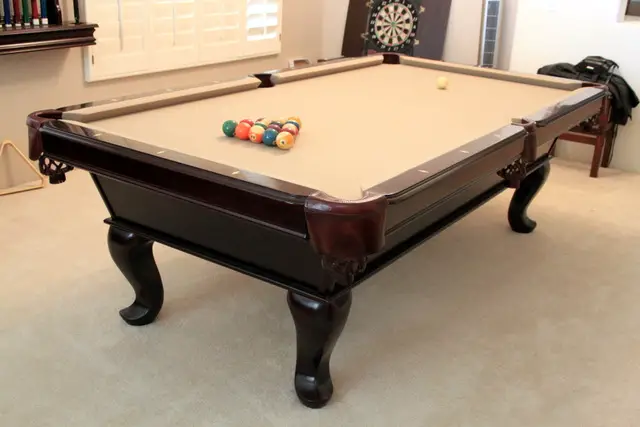 If you have a pool table in your home or business that you don't want anymore, there are several options available to you for getting rid of it. Depending on the table's condition, you can use any of the options.
1. Sell it
If you are looking to get rid of your pool table, selling it is the best option. While it may be difficult to part with a beloved game, selling it is the most cost-effective and efficient way to get rid of it. There are a few ways to go about selling your pool table. 
The first option is to find a buyer on your own. You can list it on websites such as Craigslist, and eBay, or even post a classified ad in your local newspaper. You will be able to set your own price and potentially get a good deal on it. 
A pool table store near you may also be able to help you. They may be interested in taking it off your hands for a good price, or even for free if they can use it in their store. This can be a great option as it will save you both time and money. 
2. Donate it
It might be a great idea to donate your old pool table if you're looking to get rid of it. Donating pool tables to charities, non-profit organizations, or even those in need can provide an opportunity to give back and make a difference in the lives of others. Not only will it help someone out, but it will also free up the area in your house.
There are several places you can donate a pool table, depending on where you live. Local charities and organizations, such as Goodwill or The Salvation Army, may be able to receive your donation. 
Many churches, schools, and community centers may also be willing to accept an old pool table. You can also look into finding someone who is in need of one, such as a family in need, a senior center, or a Veteran's organization.
3. Contact the Recycling Company
Getting rid of a pool table can seem like a daunting task. Many people don't have the means to transport and dispose of heavier items and this is where a proper recycling company can help. 
By contacting a recycling company, you can have your old pool table responsibly removed and recycled in an environmentally friendly way. Not only will you free up some space in your home, but you'll also be helping the environment.
Recycling companies have the expertise and the tools to safely and quickly remove your pool table from your home. You can usually get a free quote so you know what it will cost to have your old table removed. 
This will ensure that the table is recycled responsibly and that you are not held liable for any accidental damage caused during the removal process.
How To Recycle The Pool Tables?
Recycling your pool table is an easy and effective way to help protect the environment while also extending the life of your table. Here are some tips on how to recycle your pool table:
Remove all parts – Take apart the pool table, including felt, rails, slates, leg brackets, and any other accessories.
Separate components – Separate the components into different piles for easy sorting.
Metal parts – Metal parts from your table can be recycled at a local scrap metal yard.
Wood pieces – You can reuse the table's wood pieces at a local woodworking shop.
Felt and rails – Table felt and rails can be reused or donated to a charity for reuse.
Slates – Slates from the table can be recycled as roof tiles or other building materials.
Accessories – Accessories such as cue sticks, balls, and other pieces should be donated to a charity or organization that can reuse them.
FAQs
How to determine the value of the pool table?
To appraise a pool table, you should consider factors such as the size, quality of materials, age, and type of table. Before you purchase a pool table, it is important to inspect the condition of the table, check for any damage, and ask the seller questions about the history of the table. Additionally, research the market value of similar tables in your area to give you an idea of what it is worth.
How hard is it to sell a pool table?
Selling a pool table can be quite challenging, depending on the market you are in and the quality of the table. Generally speaking, it can be difficult selling a pool table, especially if it is used or if you are asking for a high price. You may need to do extensive market research to find an interested buyer, and may need to price it competitively. It may also be difficult to move the table if it is large and bulky.
How much does it cost to disassemble a pool table?
The disassembly cost can vary greatly depending on the size of the table and the complexity of the disassembly. A pool table usually costs between $50 and $200 to disassemble. However, additional fees may be charged if the pool table needs to be moved or transported to another location. The cost may also include the cost of all the parts and materials needed for the disassembly.
Can a pool table be dismantled?
Yes, it can be dismantled. The process will vary depending on the type of pool table you have, but it usually involves removing the felt, disassembling the frame, and taking off the pockets and legs. It is best to dismantle a pool table with help from a professional if you don't have experience in dismantling furniture.
Conclusion
In conclusion, removing a pool table is a difficult but necessary task. Depending on the size and condition of the table, it may be possible to donate or sell the table. If this is not an option, then it is best to call a professional junk removal service to take care of the removal. It is important to ensure that the table is properly disassembled and all the parts are safely removed. With the right preparation, pool tables can be removed in a safe and efficient manner.
My name is Ella Vicedomine and I'm the founder of this blog. The aim is to start this informational blog to guide people on how to dispose of waste things around in the house but in the right way.